"Again, you can't connect the dots looking forward; you can only connect them looking backward. So you have to trust that the dots will somehow connect in your future. You have to trust in something — your gut, destiny, life, karma, whatever. This approach has never let me down, and it has made all the difference in my life." -Steve Jobs, 2005 <3

So many nights I have lifted my pen, then dropped it. Words aren't enough to describe this feeling. It's an assortment of elation and nostalgia...it's me preparing to see the real world in a few hundred days, yet not being able to let go of the way things used to be. The way I wonder how things stayed the same so long.

Only fake excitement through greetings with people I grew into my skin with, graduation parties of my presumed "crushes" over a few too many emoticons over Google Buzz, and the sight of toddlers I used to make crazy faces at in the hallway as walking, talking beings all affirm one thing: the world moves on, with or without you. Winds are blowing. Mom's hair is greying, and the pet cat you so fondly buried in your backyard at age ten is still decaying. You are a speck of dust in the universe, and whether or not you are on the Earth or buried within it, it is moving.

Sometimes I lie awake in bed rubbing my eyes, watching galaxies and fireworks and thinking of a world without me. We truly overestimate our importance in this floating rock. And then it ensues. "If I died, x, y and z would just never be the same anymore." And maybe I'm right. But with time, all wounds heal. Within months to years, x, y and z will be sitting on a patio watching the stars and laughing about the time you played Disco Dancer in the graduating class' limo, only to get the aux cable brutally snatched from your hands. Maybe they'll never fully get over it, but they'll learn. After all, what choice do they have?

Although I don't consider myself a sadist of any sorts, I am a realist. So I'm going to tell you like it is: you're going to die someday, so stop waiting for SOMEDAY. Too many times I have thought to make a sketch for a friend, bake caramelita bars for my neighbors, or finally get around to reading Malala's autobiography (which, admittedly, has been sitting on my bookshelf for over 3 months now) and just "didn't find time."

I'm not, by any means, telling you not to prioritize. If you've got a lab to complete, do so. But don't waste time, because it's all limited. Don't count your days, make your days count. Stop stalking Kylie Jenner on Instagram and dance on your dining table. There are memories to be made, laughs to be heard, and theories to be discussed. You really have the tools to alter your destiny...Harvard or ACC, SRK or Johnny Lever, Creme Brulee or McDonald's apple pies...it comes down to two things: what you want, and how hard you worked for it. Everything else is secondary.

You can't feel it one little bit, but your skin is augmenting and making space for your soul (and that chocolate chip cookie). Your neighbor who always sends you gift baskets on your birthday is lessening her breaths in a hospital bed, regardless of whether or not you wrote that thank you note. The point here is that the world is moving and changing, and you need to stop time and BREATHE. Time will pass, and you cannot stop it. You can only accept its passage and bloom.

(Whenever I find myself in a funk in my life, I pray and then sit to watch my guru and hero Steve Jobs give his commencement at Harvard in 2005. I've practically memorized it, and I always try to digest every word, as it truly humbles me. I am pasting the link here in hopes that it does the same for you. This is a part of me, for you.)


Recently, I've been doing a lot of thinking about everything… from what major I wish to pursue, people's roles in my life, to whether or not cutting my hair short was the right decision. But mainly, I've been thinking about the person I want to be. The ideal version of myself and how she would react to certain situations, how her laugh sounds, how she dances in the rain without the slightest worry about her blowout. And I want to be her so badly. I want to light every room and every interaction as she does. I want to be good at everything she is, and I want to live every day the way she does: freely and open mindedly.

I want to be new Duriba.

Now, new Duriba isn't the seventeen year old Beyonce reincarnation. Hair charcoal locks, like mine, are often disheveled. She too, tries to balance a pencil on her nose in an empty room. But she's...different.

She wears her retainer every night, and wipes the toilet flush handle clean before and after every use, just because it's the nice thing to do. She holds doors and buys strangers coffee. She forgives, but she never forgets. She paints with her little brother, and takes time out of every day to listen to a podcast and tell her parents she loves them. She loves learning new things...even calculus.

She gets the job done, and she prioritizes. She would never deliberately leave anyone out or cheat her way through a feat. Not only can she climb mountains, she can move mountains. She volunteers every weekend and buy her friends and family presents...because she just felt like it. She laughs loudly, and doesn't spend more than 15 minutes a day looking herself in the mirror. Not because she's unattractive, but because she couldn't be bothered about a zit on her left cheek...she's got a world to shake.

New Duriba isn't just compassionate and sanguine though. She's happy. And she takes that energy with her in her Marc Jacobs crossbody bag. She's on the hunt for adventure and the thought of wind blowing through her hair sets her heart on fire. She wants to be the best humanitarian/feminist/muslim/human being she plausibly can. She wants nothing but to make a dent in the universe.

Powered by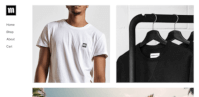 Create your own unique website with customizable templates.