Crooked teeth. Thick upper lip hair and eyebrows (my god.). Large agglomerations of baby fat on the oddest of places. Thin, metallic, purple, rimmed eyeglasses. An unhealthy obsession with eye-rolling and shopping at Justice. And the worst? A huge attitude problem.

Meet old Duriba.

Here's the cold, hard, truth: I'm not particularly fond of the person I used to be. Although I always had my circle of friends, never lacked guidance from my parents, or ever had issues growing up, I'll say it like it is: I was a brat. I was like The Clique's Massie Block, except instead of having a cute pug named Bean, I had a Webkinz named Dotty, dressed as the embodiment of Malala Yousafzai meets Heidi Klum (except more Malala then Heidi), and I had no preppy love interest that smelled like Drakkar Noir.

Point is, we've all done some weird stuff that we realllyyyy wish we could take back, but hey, that's life. The mistakes we make in the past, like trimming our eyebrows behind locked bathroom doors standing on barstools with safety scissors, teach us that sometimes the only way to overcome obstacles is to drag ourselves through them.

Anyway, if I somehow wake up in a sci-fi movie where I build a time traveling device with Tony Stark and Dr. Bruce Banner, am able to walk in ankle boots, be a fit spy, and talk with a french accent, I would do quite a lot of things...

Firstly, I would zap into that device and blast back to 2008, where a ten year old Duriba is humming a Jonas Brothers song to herself while painting her fingernails a hideous shade of bubblegum pink. I would begin by snatching the bottle out her hands and tossing it out of the window, then I would sit down with her and explain a couple of things, beginning with why its not okay to wear Aeropostale hoodies with every. stinking. outfit.

I would also explain to her that making other girls feel bad, for whatever reason, is not acceptable. That life isn't always a competition, and that its okay if she isn't the most popular little diva around, and that it's totes okay if her bowl cut isn't the roundest.

I would also elucidate the concept of the entire male species in three words: it's never worth it. She needs to know that worrying about guys, especially at such a young age, (in a romantic sense) is useless. Just because Hannah Montana is deciding between Jake and Jesse doesn't mean that she too needs the number of "baes" that is the square root of 4 (Here at [Being]Duriba, we care about your education. Also, your brown parent may or may not have sponsored this ad).


I would advise her to keep a few, close, friends not worry so much about what others think and to read more, explore more, and save her money bc i am hella broke right now forreal like I need a tripod ok so what the heck bruh r u forreal like srsly.

Long story short, we all do weird things. I've done A LOT of things I'm not proud of in the past, but that's besides the point. I'm here today, and I'm totally NOT the same person. Since the age of 12, I've matured from awkward tween to awkward teen, and have had to adapt to learning things the hard way. I've learned about friendship, respect, limits, my abilities, my talents, my strengths and weaknesses, and you know what? That's what life's about, yo. If you ever feel like you're not the same person you were a year ago, so be it! More than anything, that's a compliment to yourself, because life is about growing as a person. By learning and deciding what we enjoy, what we despise, what attracts us, what captivates us, etc, we're discovering who we are, and what our place in this world is. There is honestly so much you simply just don't know about yourself yet, and it's up to you to find out before it's too late.


Due to very high demand, yes, 0 comments and 0 likes, I have decided to share part dos of
"Apparently Interesting Things About Me". But before we get started, I want to share why I do these type of narcissistic posts in the first place.

Firstly, no, I do not make the facts in these posts up. I actually keep a note on my phone where I add new things I learn about myself, and I encourage you do the same for yourself! Also, as important as you all are, I want to clarify that yes, I am selfish. I blog for myself. Scientists recommend that writing/reflecting about daily activities and events has significantly reduced stress levels and alleviated anger. Instead of journaling, I blog to encourage others, share a bit about myself to the world, learn to take criticism, and get to know myself a little better.


Without further ado, here is…..

APPARENTLY INTERESTING THINGS ABOUT MYSELF, PART II!



I'm obsessed with referencing Barack Obama. I honestly don't know why.

I can't tell the difference between Coke and Pepsi.

I'm cheap, but I will splurge if I really want something.

I actually don't like Nutella.

I love pumpkin flavored anything, except tutti and small children.

I'm obsessed with baby cheeks. They just look so squishy and adorable to me.
Delightful.

I have a thing for organic foods. You can taste the difference!

I find minimal amounts of acne and "buttchins" attractive. Sue me.

I really love when people compliment my blog or tell me that they've creeped on me! I see you creepers.
We homies doe.

My favorite household item would be a paper towel. I LOVE paper towels.

I'm obsessed with watches. I always wear them, even when they display the wrong time.

I love meaningful compliments that delve into more than one's exterior. Compliment my kidneys, gosh, this world!

I'm horrible at math. The worst part? I'm not even exaggerating.

My favorite store is Fossil.

I only eat crunchy peanut butter. Creamy peanut butter tastes so worthless.

I wish there was more to life than studying, socializing, eating, and sleeping.

My favorite author is Franz Kafka.

I HATE procrastination, germaphobes, dramatic people, gossipers, and when people constantly disrespect their elders.

I love little kids, but I'm horrible with them. One time my cousin's baby started crying and I tried tickling him.
He kicked me.

I drink Coffee almost every day, but I actually don't really like it. I like coffee ice cream, though.

I'm very awkward in emotional situations, comforting people, and expressing my feelings. I'd rather buy someone a (HALAL) Rice Krispee treat than tell them that I love them.

I hate apologizing when I know that I'm right, and I have a lot of trouble doing it. It becomes a problem sometimes.

I contradict myself a lot, but not that much.

My favorite artist is Ben Shahn, although he creeps me out.

78% of the reason I want to get married is so that I can have a spider killer around 24/7.

I have a bad memory.

My hands are feet are usually very cold.
Ice ice, baby.

My grades are VERY important to me. One time, during an SAT prep class I expressed my philosophy that grades determine your worth as a person to my gora tutor and he gave me the dirtiest look.
I ain't even mad though.

I very strongly believe that people can simply be whoever they choose.
Except Beyonce.
There can only be one Beyonce.

I've never exactly been comfortable posting selfies of myself, but I'll do it once it a while to break tradition. I know, someone call the cops...I'm a wild one!

I work at Kumon, and am an underway part time writer for Brown Girl Magazine!

If I could live anywhere, I would live in IKEA.

Me and my mom have a very great relationship, and for this I thank the lawd every day.

I hate talking in the car.

I'm scared to die because I feel like I have a lot more to do in my life, a lot of people to apologize to, and a lot more prayers to complete.

Powered by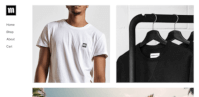 Create your own unique website with customizable templates.