It happens to everyone, everywhere. Whether you may be a saint or a sinner, you have committed the act of jealousy.
What is jealousy? Jelousy is the emotion or feeling of simply wanting what someone else has, whatever it may be. For decades, this word has held a negative connotation and has been frowned upon. But today, I'm here to tell you that jealously is a natural emotion which, whether you believe it or not, can be surmounted.
We are all jealous of different things. For example, I may be jealous of the significant other of a celebrity, while my mother may be jealous of her friend's new crockpot...It works it's own ways. There are numerous amounts of things one can be jealous of: objects, abilities, personality traits, tendencies, positions and even commitments.
To be honest, I posses huge issues with the topic of jealousy is discussed. I often tend to compare myself to another people and to the things they may have. I always think of way I could use a product or ability to greater potential, had that trait or even object been mine. My jealousy has never driven me to the point where I despise others, but rather lingers in the back of my mind and pays a unfortunate visit from time to time. I'm still finding ways to overcome this tendency, but sometimes I can never help myself. I've tried everything: I've sat myself down and tried to convince myself out of it. I've tried to console myself into understanding that everyone has their own gifts and talents and to continue to wish I had more than that allotted to me would be simply selfish. It would be a spit to the face to the one who gifted me with these talents. After all this thinking, I went for a walk the other day, observing nature, then, it hit me.
It could be that somewhere, someone is jealous of me or my abilities. People will always be jealous of others. In order to overcome this, we must all realize that our unique behaviors and talents are what help us work to the best we can be. Instead of always focusing on myself, I should take time to appreciate others gifts and how they can use them and how if ever combined, we could build an excellent team and go on to achieve greater things.
So if your shoes are caught in such a predicament, remember that whatever you have and whatever you do, is for the betterment of yourself and those around you. Everything happens a reason, and although yup may currently be baffled at what this twisted reason could be, remember that time heals all wounds, however deep they may be.


There will come a time in your life when you realize that all this time, you have been wrong about someone. Where through two to three encounters with a person and you've already decided every thing about them. Today I'm here to tell you that if you've ever done this, you've been truly wrong.

For the past six years of my life, I've distanced myself from my grandparents. Whenever I'd come home and see them in the kitchen, in the living room or even on the computer, I would just mumble a quaint hello and go on with my life. To me, they were never really people who I took time to get to know. Thoughts like "there's a major age gap between us" or "they'll never understand my problems" kept me away from them. Every time I considered starting up a conversation, the little voice in my head told me that I had too much work to do, or that we had nothing to talk about. For years it went on like this. Occasionally I found time for an awkward hug or "How was your day" between mouthfulls, but never in a million years did it occur to me that these two were actual people with great stories and memories to share over biscuits and tea. To this day it embarrasses me to think that I know more about actual strangers than people whom I've shared a fridge with for as long as I can imagine. Today, for the first time in what feels like forever, I had an actual conversation with my grandfather, and to my great surprise, it actually lasted for more than thirty seconds. I can't believe that to this day, I was missing out on such an intellectual, funny and sweet human being. Oh the things we talked about, my mouth actually hurts from smiling for so long. When things got a bit serious in our conversation, I asked him a question.


"Are you afraid of death?" I asked.

He took a minute to answer, most likely caught off guard by the question.

"The one that is afraid of death isn't afraid of death itself, but is afraid of what comes after it". He responded, complacent with his response.

I unexpectedly got teary, and literally felt my heart break into two pieces. I'm still unsure to as of why. He switched the topic and begin rambling about how obnoxious I was as a child. When he noticed the pencil still in my hand and the empty sheet before me, he stopped.

"I'll leave you to your work. Thank you for talking to me. Now I will go and have some milk, pray and fall sound asleep, and you will finish your work. Twelve days will go by like this then I will head off to Pakistan and you will forget about me".

This caught me off gaurd. Is this what he thought I wanted? I never really seemed to notice him, always thinking about one thing or the other. It never occurred to me that maybe sometimes he too, wanted to talk to me but was shot down when he saw me get back tired from school.

"I'll never forget about you" I responded.






And that was a promise.


Powered by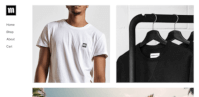 Create your own unique website with customizable templates.